(de)construction
By Tom Juby and David Chatting - the dark show (15th to 17th January 2010)
St Mary-at-the-Quay Church, Ipswich was built between 1443 and 1543; situated in the heart of the town's busy dock area. The marshy soil beneath has been slowing eating away its columns and since the 1890s work has been undertaken to keep the building standing. In 1943 German bombs destroyed the windows and caused other major structural damage. Since the 1950s the church has not been open for regular services. However, still it stands.
In preparing for the the dark show we discovered this photograph of the interior before 1942 from the ringers' gallery:

This is None Other but the House of God and this the Gate of Heaven - Genesis 28:17
Today many of the features have been removed and the space is empty: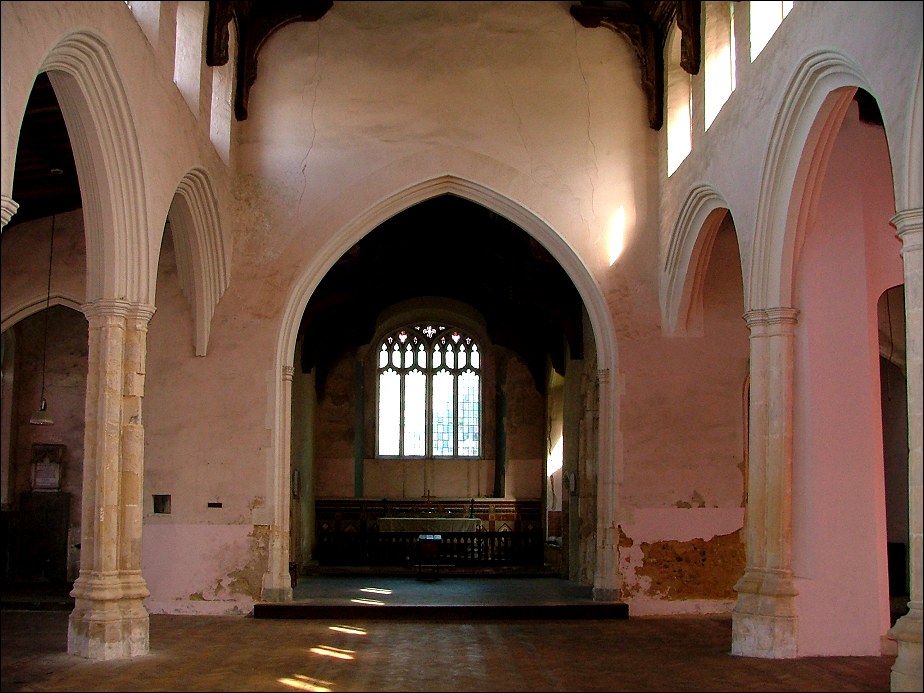 We realised that by projecting the photograph, from the same point it was taken, we could restore the banner to the arch and plaques to the wall:
The experience is the ghostly appearance of a time gone before. It also serves to highlight otherwise invisible features and give them meaning. For instance, it is possible to see the surround of the banner and some of the original paintwork just remaining. The photograph is only projected every few moments before fading away, as virtual blocks fall from the roof bouncing off the arch - in doing so allowing us to reflect the construction and ultimate deconstruction of the church.
Influences include Michael Naimark's Displacements (1984).